Conference
Urgent Publishing
New Strategies in Post-truth Times
May 15, 2019 19:00 – May 17, 2019 22:00ArtEZ University of the Arts, Arnhem
Institute of Network Cultures, ArtEZ University of the Arts and Willem de Kooning Academy are happy to invite you to Urgent Publishing, a conference with presentations and workshops about publishing strategies in post-truth times.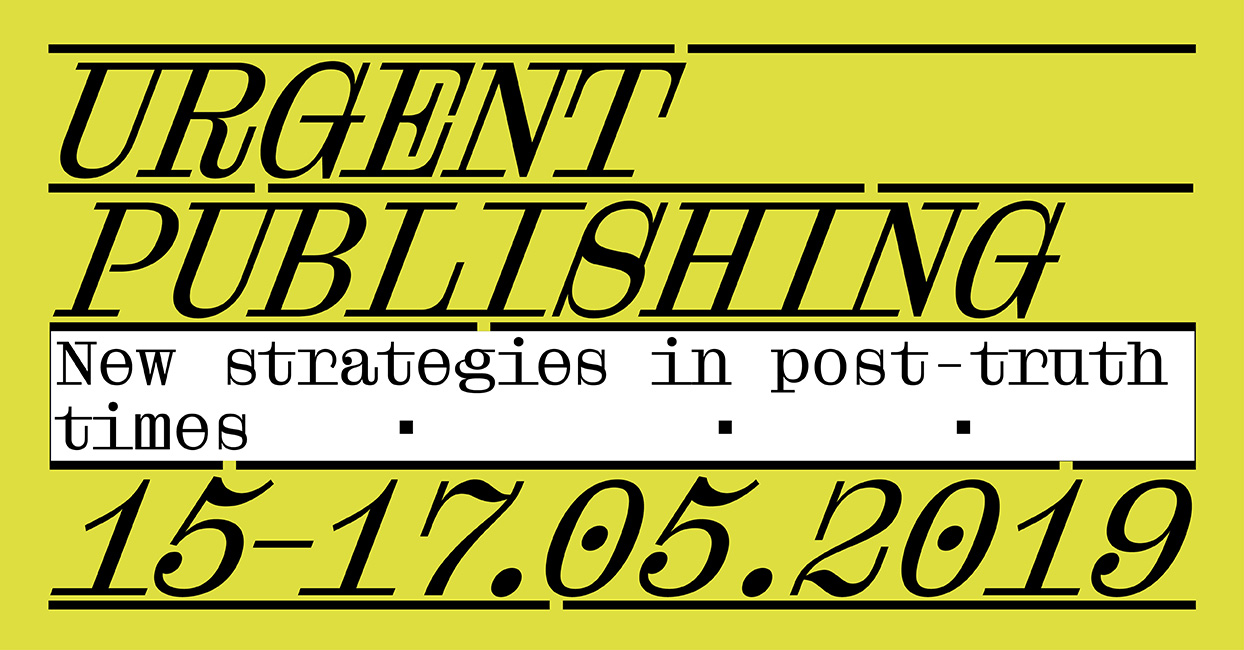 The 21st century has witnessed the liberation of publishing practices. Digital technologies have brought the printing press to the masses. Who gets to publish and when, the medium used and the channels through which information is consumed have all changed drastically. An ever accelerating development of emergent technologies has led to a wide array of emergent publishing practices, be it in the form of longreads, vlogs, zines, collaborative platforms or print-on-demand – all the while leaving the status of and love for paper books intact. A plethora of tools, applications, infrastructures, models, and hacks thus makes many futures of publishing possible. How to realize sustainable, high-quality alternatives within this domain of post-digital publishing?
Liberation comes with its downsides: while the availability of publishing technologies has helped bring different voices onto the stage, connect new communities and identify hegemonic intersections of power, they have also played a role in bringing about what is known as the 'post-truth era'. Critical interventions have been somewhat self-referential and concentrated on the needs and demands of people and communities engaged in the history of art or avantgarde publishing. In the meantime, the scale and scope of once emergent publishing practices have exploded, leaving a disenchanted public to scavenge the rubble of breaking fake news stories, information pollution and broken links. Speed and availability of publications may have increased, but the quality of the information presented and of its containers lags behind.
What is needed is a break with the old, closed pre-digital era of gatekeepers or high entry costs. Publishers, writers, researchers, designers and developers need new strategies for urgent publishing. A critical set of discourses, practices and productions to intervene in the public debate with high-quality information that can be issued in a timely manner and that will reach the desired audiences. The development of such a toolbox of strategies has been the focus of diverse critical cultures that have interacted and experimented with publishing in the last two decades. Concentrated efforts directed towards furthering these practices within the context of the current information age will open up robust futures for a publishing domain that remains forever emergent – and urgent.
How can designers, developers, artists, writers and publishers intervene in the public debate and counter misinformation in a meaningful and relevant way? What are new publishing strategies for our current media landscape? How to design for urgency without succumbing to an accelerated hype cycle? Join us for three days of discussions, explorations and experiments at Urgent Publishing.
Speakers
Pre-Conference Night with Clara Balaguer, Padmini Ray Murray, Morten Paul, and Nikola Richter, moderated by Florian Cramer. Conference with Janneke Adema & Gary Hall, Axel Andersson, Evelyn Austin, Clara Balaguer, Silvia dal Dosso & Noel David Nicolaus, Isabel Löfgren, and Lídia Pereira, moderated by Miriam Rasch and Inte Gloerich.
Location details
The event will start with a Pre-Conference Night on 15 May 2019 at Academische Club, Amsterdam. The Conference with presentations will take place the day after on 16 May 2019 at ArtEZ University for the Arts, Arnhem and will be followed by a series of workshops on 17 May 2019 at ArtEZ University for the Arts and Motel Spatie, Arnhem. More information and registration: networkcultures.org
Tickets
Admission: free, but registration is required at networkcultures.org
Academische Club, Oudezijds Achterburgwal 235, 1012 DL Amsterdam, the Netherlands; ArtEZ University of the Arts, Utrechtsestraat 85, 6811 LW Arnhem, the Netherlands; Motel Spatie, Hisveltplein 21–35, 6826 EM Arnhem, the Netherlands.