Federica Bueti
How Much Do We Know about Each Other?
May 19, 2017 — 17:13
A conversation between Paul Goodwin and Wayne Modest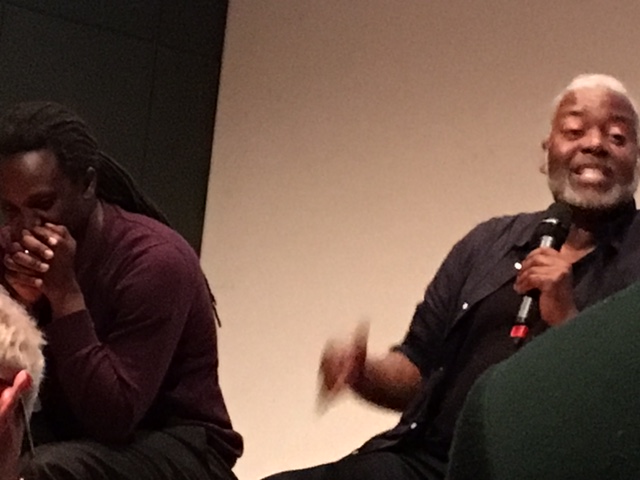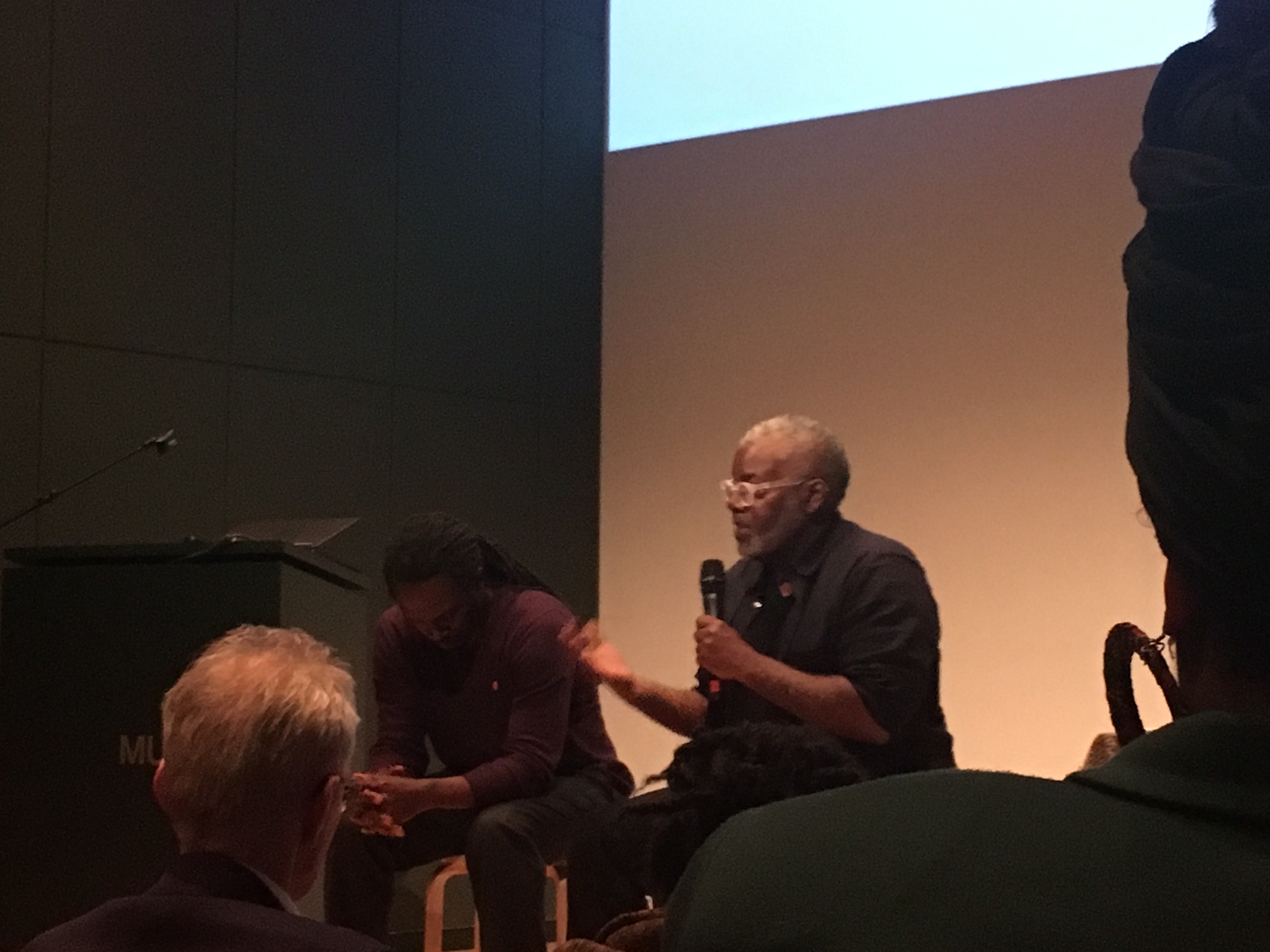 A few quotes from Paul Goodwin's presentation:
'We need to speak multiple languages to different audiences to dismantle existing hierarchies.'
'What kind of knowledges are we building when we are working across borders? How much do we know about each other?'
'We, black people, are and work in institutions, but we are not of them.'
Read more…
Mónica Chaminé Lacerda and Wilfred Vlad Tomescu
Karin Amatmoekrim: Migrants, Modern People of the Postmodern
May 19, 2017 — 16:32
Mónica Chaminé Lacerda and Wilfred Vlad Tomescu engage in a poetic conversation on the issues raised by Karin Amatmoekrim's talk
Mónica Chaminé Lacerda
'the modern identity of these people in the West has become fragmented'
one asks: on whom has fragmentation had a stronger impact?
migrant potency
identity and origin
civilization and identity
how to turn this into a poem?
intimacy that suffocates
a loneliness that grows and roots
what lives under the skin under the flame of hope that one clings on to?
the language that one learns eventually annihilating one's mother tongue
how to create a place of tolerance
where the mind is not trapped in a niche
alcoholism
that inhabits a rupture
that can't be filled despite
the attempts
(i love to listen to the interpreter's breathing in my ears)
****
Wilfred Vlad Tomescu
i wonder if there is a clue
to the issues discussed in
the caucus so far in the
parallel /
/ translation
necessary for those who do
not understand
Dutch
a Dutch voice is overdubbed
by a British voice interpreting
the words used by the former
occasionally breaking the fourth
wall
to announce that there is static
on the line and the words cannot
be heard
the questions that come from the
interpreter addressed to the
sound technician to check whether
or not they can be heard
*breathing in headphones*
these moments break my attention
and make me intuitively think
about language and the language of
differences the assumptions i am
making about the identity or
race of the person in my ears
(disembodied voice)
how they are acting out what they hear
wondering how and for whom they were
chosen or why the lecture itself was
chosen to be read in Dutch since the
question asked at the very end by a
*breaking in headphones*
member of the audience is responded to
in English by the same presenter
with a clarity and pace that is easier
for me to follow as well as to connect
to the presence, facial expressions
and gesticulation of the un-interfaced
speaker (voiceless body) but mostly
*inaudible*
i think of being told that last night
i shouted 'get out of my way' or 'get
off of me', in my sleep
but i shouted in English and that is
not my identity
Read more…
Federica Bueti
Existing On Other Terms
May 19, 2017 — 16:11
'We ask for justice and what we get is just this.' (a member of Becoming More)
Read more…
Federica Bueti
On Experiences and Choices Part 2
May 19, 2017 — 13:54
DAI students Mónica Chaminé Lacerda and Wilfred Vlad Tomescu are the respondents to this afternoon's session
The afternoon session begins with a lecture by novelist Karin Amatmoekrim on Dutch-Surinamese Anil Ramdas and questions of identity and 'habitat'. Respondent is cultural anthropologist Sinan Cankaya, who asks the question: what is the place of the black intellectual in the Netherlands?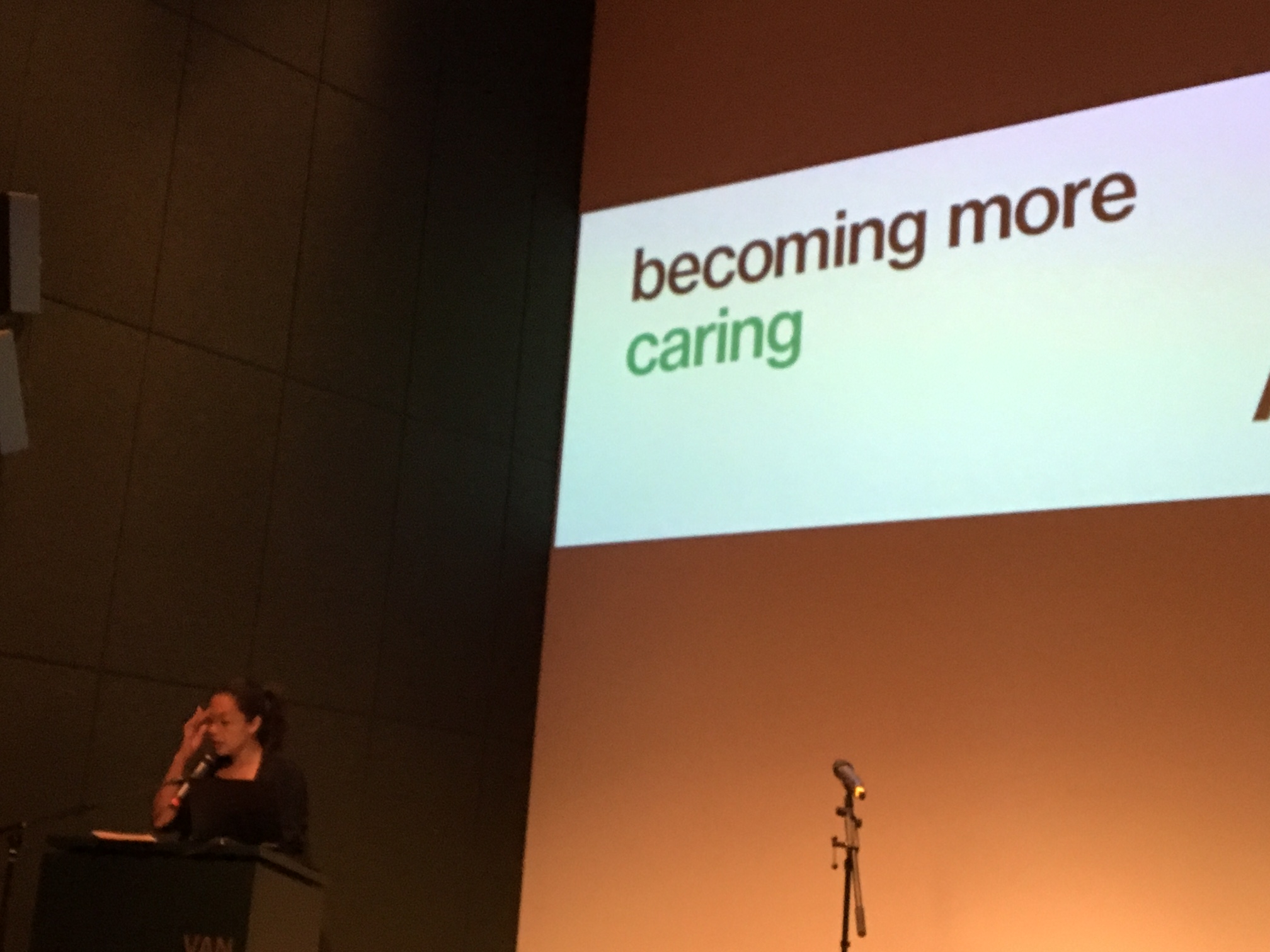 The second presentation is by Paul Goodwin. As cultural practitioners working in white institutaions often hostiles to black culture and aristic production, how to navigate these institutions? Where do black people situate themselves within these white-institutions? He proposes to think of the 'recalcitrant practitioner' who resists a call to order. Recalcitrancy is a form of refusal, 'a quotidian form of resistance to authority.' The respondent to Goodwin's talk is is the Head of the Curatorial Department at the Tropenmuseum, Wayne Modest.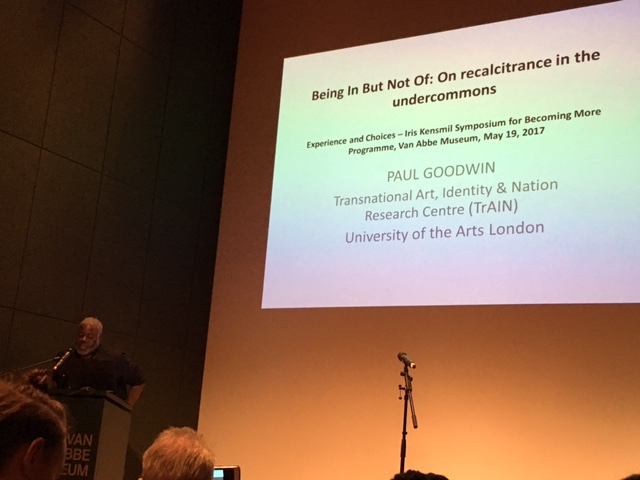 Read more…
Areumnari Ee
What Now?
May 19, 2017 — 12:43
Mitchell Esajas and Jessica de Abreu
OUR ROOTS – OUR HISTORY – YOUNG SURINAMES BORN IN NL – HISTORY OF SLAVERY – BATTLE FOR INDEPENDENCE – BEAUTY OF FIGHT – SO MUCH ENERGY – PROUD – NEW URBAN COLLECTIVE 'IMPROVE EVERYDAY' – EDUCATION IS THE MOST POWERFUL WEAPON THAT YOU CAN USE TO CHANGE THE WORLD – NELSON MANDELA – PERSONAL DEVELOPMENT & SELF-CONSCIOUSNESS – IT TAKES A VILLAGE TO RAISE A CHILD – NETWORK – STUDENTS KNOW VERY LITTLE – THE IDEA OF COLLECTIVE WAS BORN – GATHER TO EMPOWER EACH OTHER – TELL THE STORY – PASS THE STORY – SHARE – PARTICULAR SOCIETY ISSUES THAT WE CONFRONT – #DECOLONISINGUNIVERSITY – STOP ZWART PIET – TOGETHER WITH OTHER ACTIVIST GROUPS – DEMONSTRATIONS – NU CAFE: THE BLACK ARCHIVES – BLACK MINDS MATTER – HISTORY IS A SOCIAL CONSTRUCT – IT CAN BE RECONSTRUCTED – CHOICES WE MAKE – WHAT VOICES SPEAK – WHAT ARCHIVES AND DOCUMENTS – HISTORY THAT WE CONSTRUCT – NOT THE DOMINANT STRUCTURE OF POWER OF THE NATION SOCIETY – SHED PAST – SHED ROOTS – SHED A GROUP – SOME THINGS ARE NEVER TOLD IN SCHOOL – RESISTANCE SIMPLY HELD BACK – TRADITIONAL – SLAVERY – BLACK HISTORY – WHAT A PITY – IN NL WE DON'T HAVE SURINAME HISTORY – NOT MUCH IS HAPPENING – WHITE INNOCENCE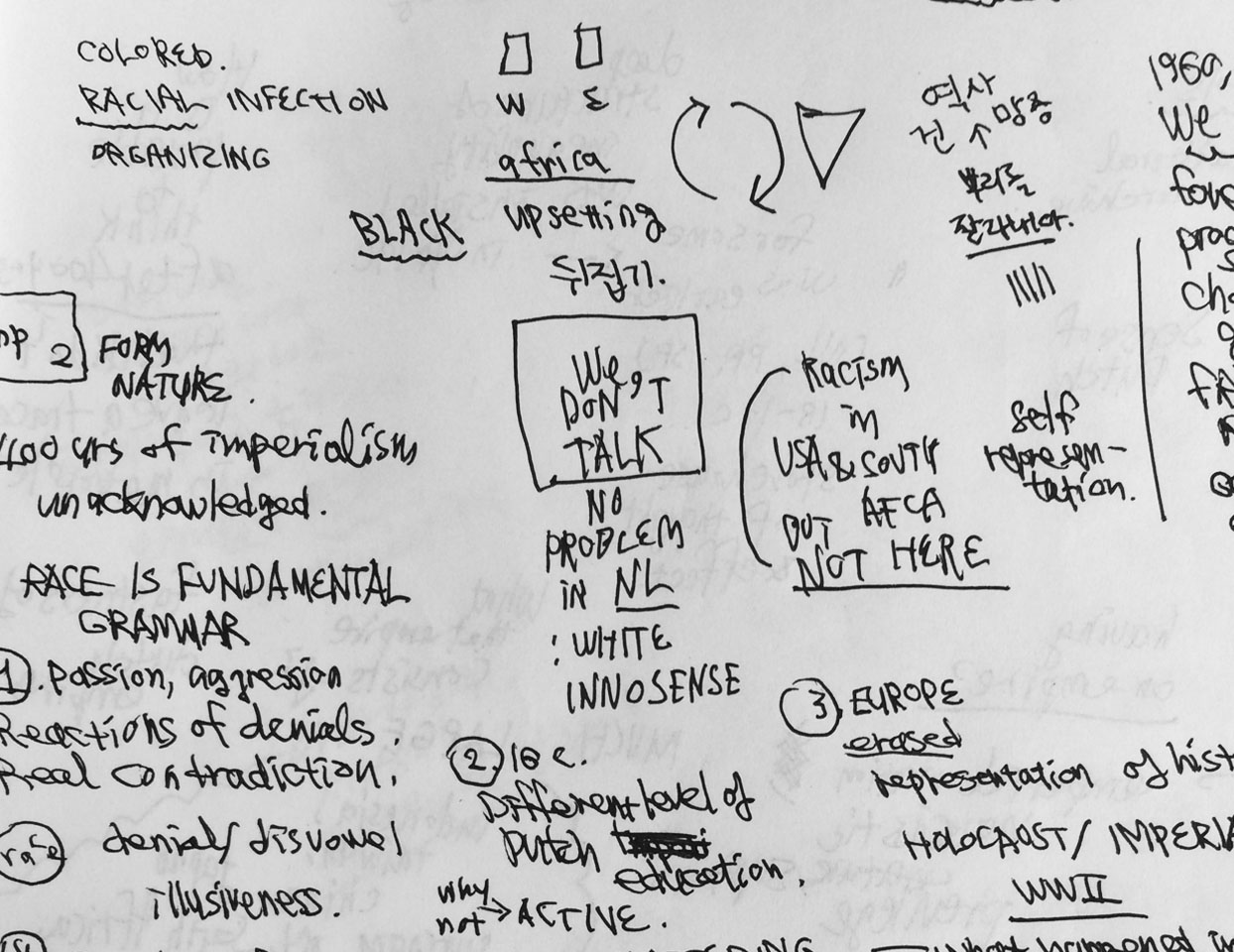 – urban collective – writing history and all the fights – role as a woman – women are not mentioned – the black are also quiet!
Read more…
Pitchaya Ngamcharoen
The Lost Archives
May 19, 2017 — 12:36
Shall we give a second life to these books and stories?
May we elevate our lovely land
We are lost in the history
We are lost within the process
A process of selecting history
We left unspoken
We try to retrieve, bring it back to live
Keep telling the stories
Continue with Literature
How we came here together
We are dedicated to the soil
History equals social construction
Let's not forget
Let's not leave too much behind
Working we keep in mind
Shall we give a second life to these books and stories
Justice and truth will set us free
All that is great to watch
Give value to our land
To where we came from
Rise country people, rise
The soil is calling you
Our body is a document
Every single cell in our body, blood in our veins
It's where we came from
Be rooted
Wherever our ancestors came from
There is a fight to fight, we shall not be afraid
Shall we give a second life to these books and stories?
Read more…
Areumnari Ee
My Position: Amsterdam – Gwangju
May 19, 2017 — 12:29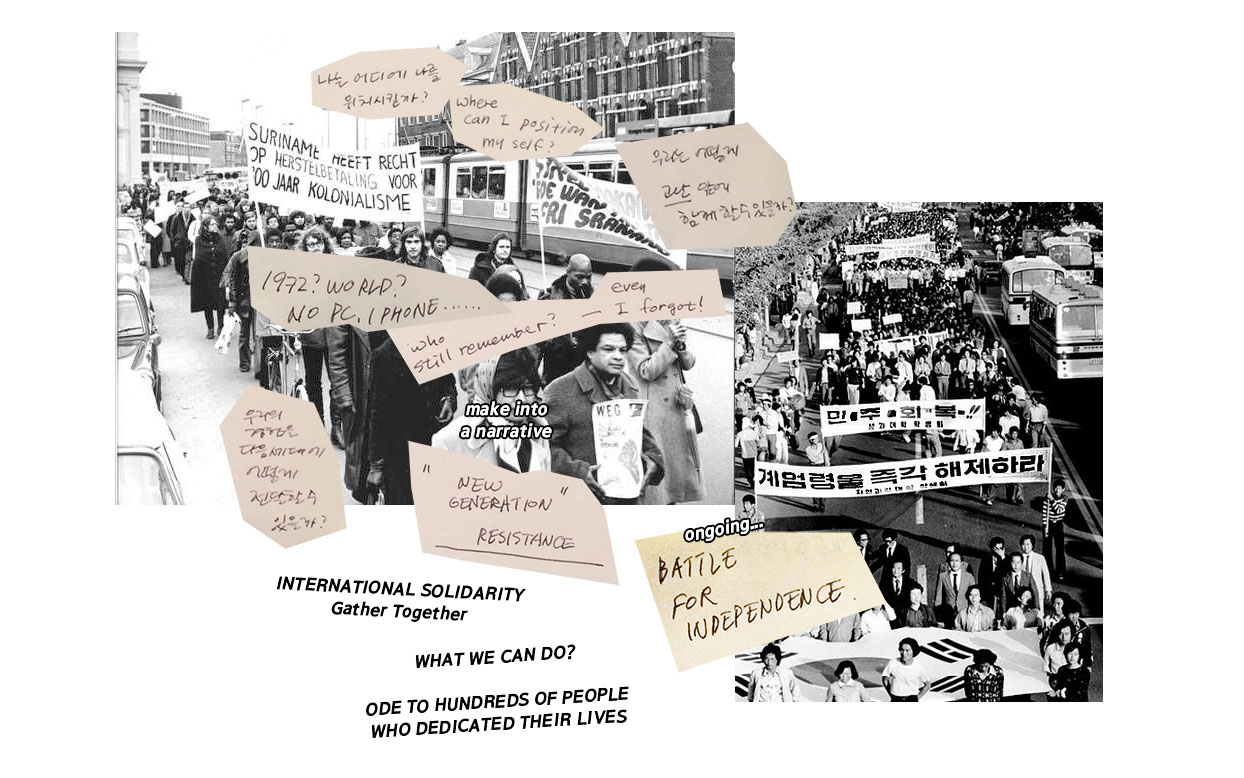 Gloria Wekker's lecture last night made me think about how I can approach and comment about this. Apparently lots of young black Dutch people came here to attend this inspiring lecture. I was among the few people there who had to wear a translating machine. In terms of ongoing struggles, hidden voices, I definitely sympathized with them. My question started from positioning myself with respect to how I remember past struggles as a motivation – and also as a young generation. How can the old generation's struggle remain and transfer to me as a present form of resistance? My point went further in connecting the two cities: Amsterdam and Gwangju. Okay, now we share within our despair, for equality and justice.
In the world of 1970, before I was born, the delivery of information wasn't so easy like today. Resistance was accompanied with physical activities, sweat and all-nighters. How can we continue that physical craving in the digital era? It is very hard to keep the momentum up these days. Sharing is so easy through the Internet. So I think that will also be part of our resistance, to keep this momentum up in this high-speed era. We need to see each other more, we need to share and be together more. I felt that after the talk, when everyone was standing and clapping.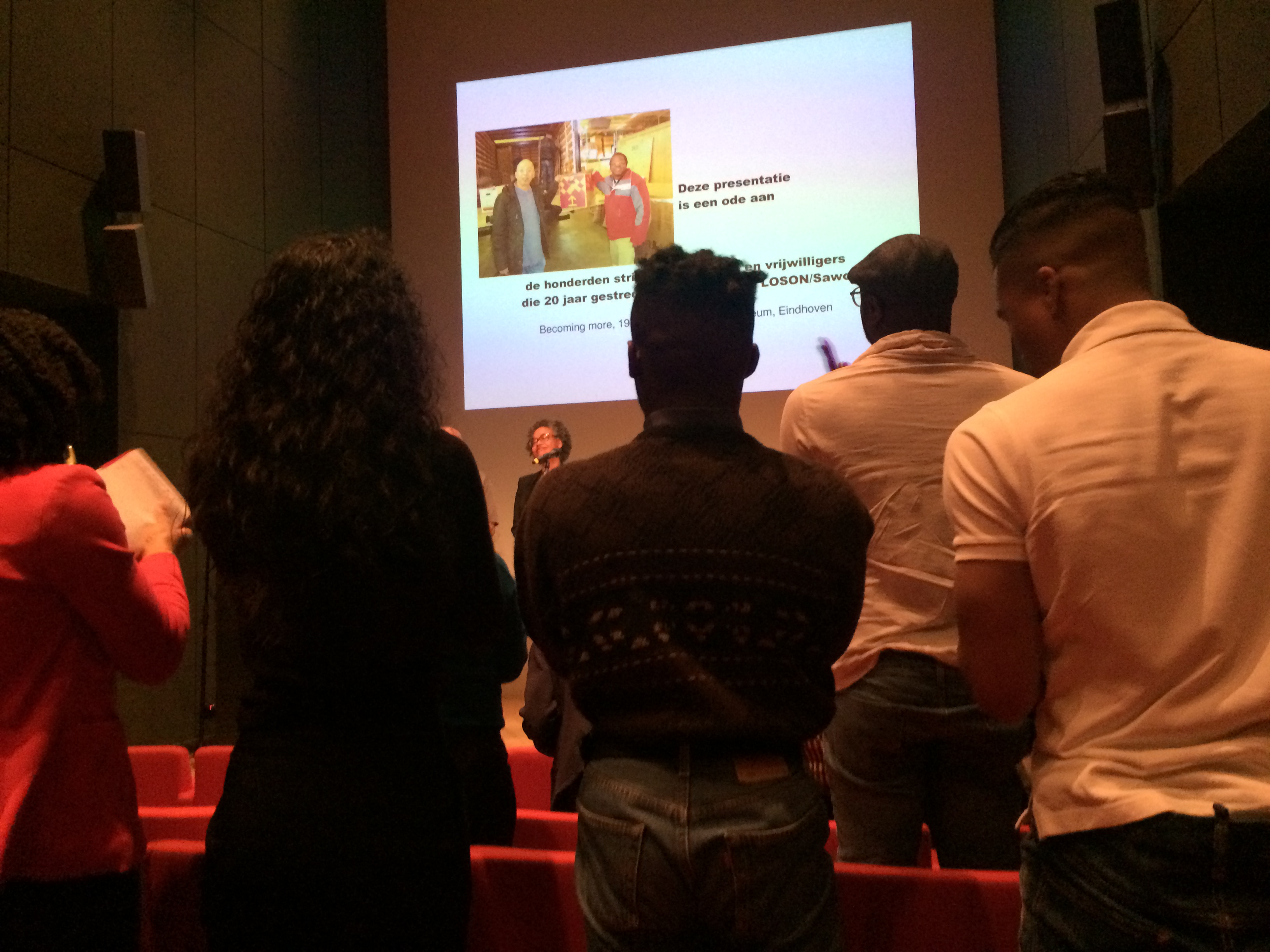 Read more…
Pitchaya Ngamcharoen
GATHER TOGETHER: SOME NOTES
May 19, 2017 — 11:57
Suriname Resistance: History and Future of Black People's Struggle
Collected here are a series of reflections in the form of personal notes in response to Ernestine Comvalius and Andre Reeder
Younger generation lost the sense of the battle and has no idea what has happened
The loss of realization
1972 after 2 years in NY
Refuse to close your eyes
1972 no computer no Internet
Making pictures was unusual; not many broadcast stations
Document made on typewriter
Pencil paper leaflet
South Africa army; many countries doing battles
Vietnam demonstration
Social demonstration
Going back to Suriname
Anti-colonial afford
Going back under cover name
Large-scale publication gets people to subscribe and talk to other people
Leninism Marxism
People are not cognizant of the political
Fell completely, felt compelled to write to the community here
Suriname community grow
Concentration
People from Suriname will be stopped at Schiphol or stopped on the plane and not settle in Bijlmer
We stuck in a small room
Instead of 2 years some people stay 6–7 years
Protest for bad accomodation
ผู้คนยังรู้สึกว่าที่นี่สามารถเกิดความเปลี่ยนแปลงได้
16-year-old had been hung
Turkish comrade
GATHER TOGETHER
Seen as a danger
Listen to their pain and stories
Bring body
Commemoration
Money gathered
Those who had been left behind
1992 critical declined
How to gain
Read more…
Federica Bueti
On Experiences and Choices Part 1
May 19, 2017 — 11:15
Dutch Art Institute (DAI) students Pitchaya Ngamcharoen and Areumnari Ee are the respondents to this morning's session
On Experience and Choices is a series of talks and discussions that address the experiences and cultural contexts of black emancipatory struggles in the Netherlands.
We kick off the coverage of Day One of Becoming More from the Van Abbemuseum auditorium with a stunning presentation by Ernestine Comvalius and Andre Reeder on the Suriname people's resistance and political struggle in the Netherlands, or in the words of the presenters, 'an ode to the hundreds of people who we have connected our lives to'.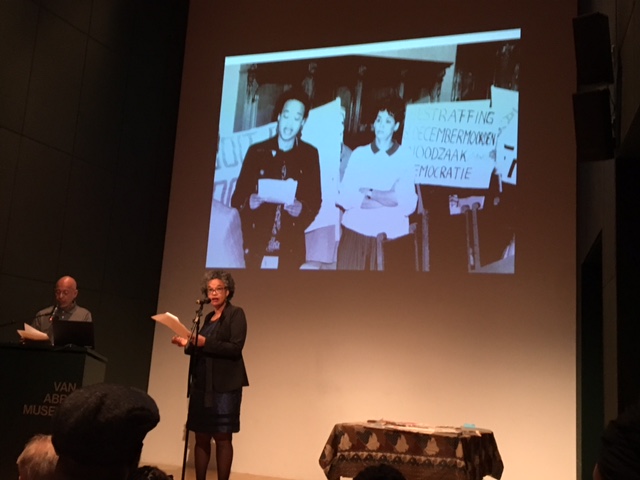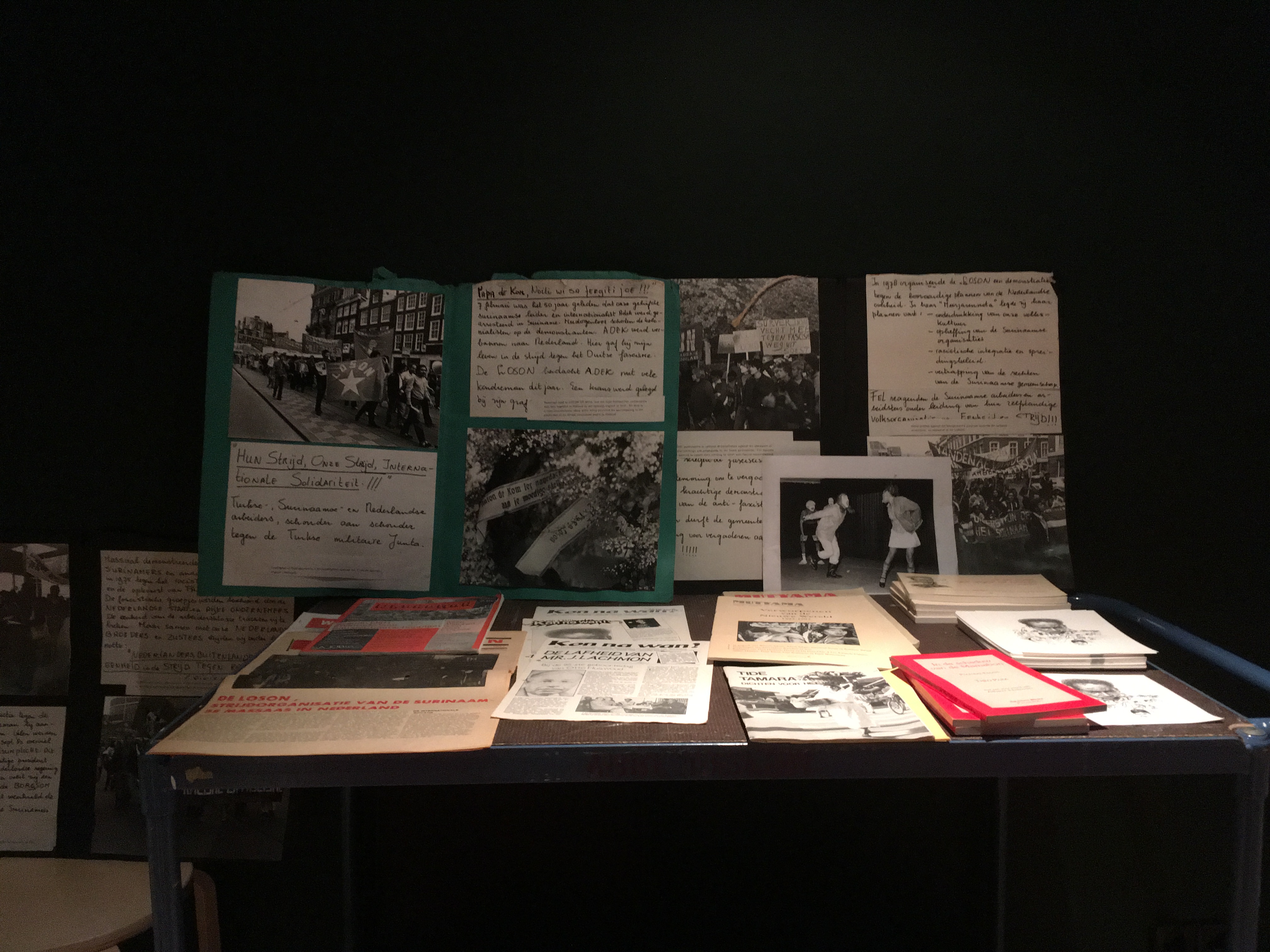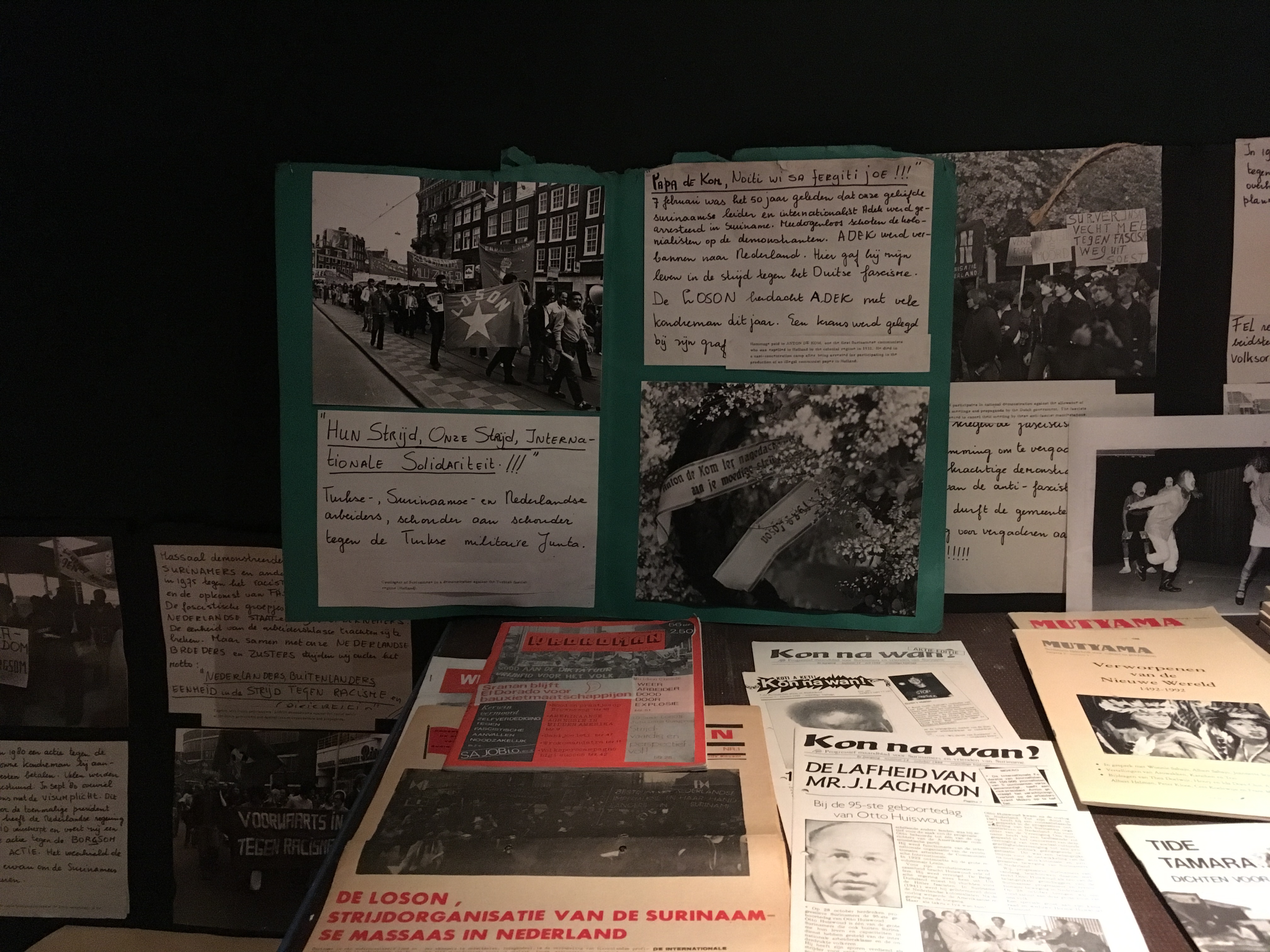 Read more…
Federica Bueti
Keynote Lecture: Gloria Wekker – Beyond White Innocence
May 19, 2017 — 09:20
How to be free and situated? Thrilling lecture by Gloria Wekker on race as grammar of difference
The ten-day public programme Becoming More was launched yesterday evening with an exhilarating lecture by Gloria Wekker.
Wekker addressed what she described as 'white innocence' in Dutch culture. She discussed the specific context of the Netherlands and pointed to the too easy assumption that Dutch imperalism didn't leave any traces on Dutch culture. Wekker asked, how is it possible to think that four hundred years of imperalism has left no trace in the culture of Dutch people? How do we tell stories about who we are? And, how do we keep these narratives standing and how do we work to undo them? Through a series of anecdotes and theoretical reflections, Wekker emphasized the necessity to attend to race, to dig into the 'cultural archive' (a term borrowed from Edward Said), that storehouse that hosts knowledge, attitudes, references and feelings, and consider how imperialism has shaped white Western culture. Imperialist histories do not belong to a distant past. They shape our present culture. Quoting writer Toni Morrison, Wekker asks, how do we address race? How to be free and situated? How to build a race-specific, yet not racist home? These are some of the questions that will be addressed over the course of these ten days.
During her lecture, Wekker kept returning to Morrison's novel Home. This book asks and attempts to give an answer to a crucial question, what kind of selfhood is possible to possess when we come from a spiritually impoverished home, one that fails to concede, let alone nourish, each inhabitant's worth? This novel is a must-read. Here's a link to a review of the book: www.nytimes.com.
Read more…